DVD Storage Case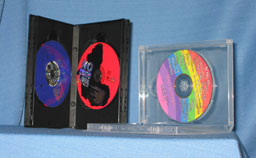 There are many benefits in using a DVD storage case from Applied Plastics Technology.
Cases are packaged 100 per box and are stocked in clear or black. They are produced in a single disc or dual disc format and with or without sleeve. Custom colors are available.
Features
Made with durable, heavy duty polypropylene
Dual latches help retain closure of case
Custom design hubs allow removal of disc easily without breakage
Guards in place to resist film from snagging on corners
Sleeved cases are offered with a heavy gauge clear film
Case is tamper deterrent with an easy lock and key system- ideal for rental market
Suitable for disc storage without lock and key system
Box Weight - 9 kg (approx.)     Box Dimensions- 21" x 15" x 7"
Multi Disc Stacker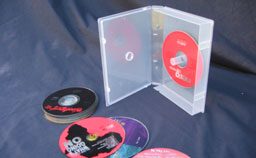 New on the market is our multi disc stacker. Case is made of durable, heavy duty polypropylene and is packaged 90 to a box.
Ideal for storing up to 15 discs in an easy to handle case
Great for teens to organize their multitude of discs
Ideal to use when traveling or on vacation- all your discs in one box.
Box Weight- 9 kg (approx.)     Box Dimensions- 24" x 16" x 11"